Popular Spots To Hidden Gems! The Best 10 Sightseeing Spots In Yamanashi!
Yamanashi, located next to major cities, is one of the most popular prefectures for sightseeing. It is surrounded by rich nature including Mt.Fuji, the mountain of Southern Alps, and Chichibu Mountains. Not only that, Yamanashi is full of sightseeing spots such as the cultural properties, old shrines, and hot springs. That Yamanashi, has an easy access from Tokyo that it takes just 2 hours by car one way – you can even go on a day trip! When you finish reading this article, you will be so keen on making plans to visit!
Kofu Onsen
"Kofu Onsen" is a hot springs that the water springs out from a few places at the centre of Kofu. As it is a simple thermal hot springs, it is good for rheumatoid arthritis, a gastrointestinal disorder, a skin disease, and a female disorder, and has been loved by the tourists as well as the locals.
Also, it is located just 5 minutes away from Kofu Station, and this is one of the reasons this became such a popular spot. It is unusual that the hot springs is situated in the middle of the prefectural capital. There are other tourist spots such as Shosenkyo and Budoukyo, so you can visit there before trying hot springs! How about making yourself relaxed in Kofu Onsen?
■Information
Name: Kofu Onsen
Address: 1-18-1, Maru no Uchi, Kofu City, Yamanashi
Phone: +81-55-222-9733
Time:
Close:
Access: Walk 5 mins from Kofu Station
Website: http://www.hirasei.jp/
Map: map to Kofu Onsen
Kai Zenkoji
Although you don't have many chances to visit temples, this is the time once you are on a trip! "Kai Zenkoji", with the main hall and the gate designated as the important cultural properties, was built by one of the most popular Shoguns – Takeda Shingen. Especially the main hall looks great and so dynamic!
In spring, you will also witness the beautiful views of cherry blossoms and the temple itself. Also, this temple is quite famous among the locals as well as the tourist for the bells of New Year's Eve. Visiting this important cultural property, Kai Zenkoji is strongly recommended!
■Information
Name: Kai Zenkoji
Address: 3-36-1, Zenkoji, Kofu City, Yamanashi
Phone: +81-55-233-7570
Time: 9:00-16:30
Price:Adult 500 yen, Primary School Student 250 yen
Access: Walk 7 mins from Zenkoji
Website: http://www.kai-zenkoji.or.jp/
Map: map to Kai Zenkoji
Takeda Shrine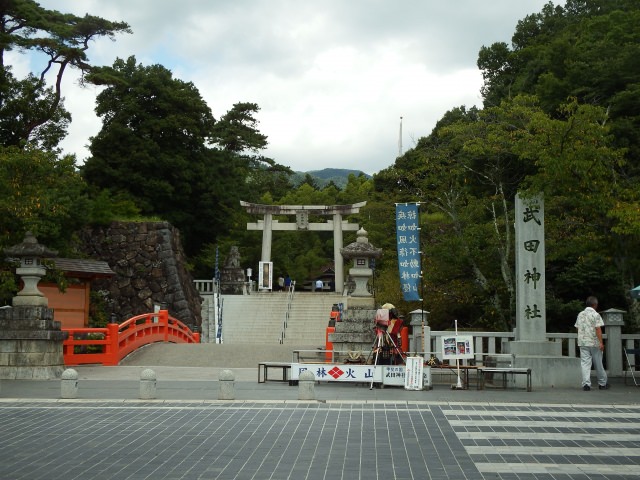 A great Shogun of Yamanashi, Takeda Shingen is enshrined at this shrine – "Takeda Shrine". This is one of the most popular spots that a number of tourists visit every day. It is believed that Takeda Shrine has a good luck, and it has been getting popular not only in Japan, but also overseas as well.
"Good luck" simply means to win a game, win a life, and win yourself too – why not visit this place and pray if you have anything you must fight for? A sacred spot, "Hime no Ido" in the precinct, even has a stronger luck if you want to increase your luck! Recharge your energy by visiting Takeda Shrine!
Mt.Amari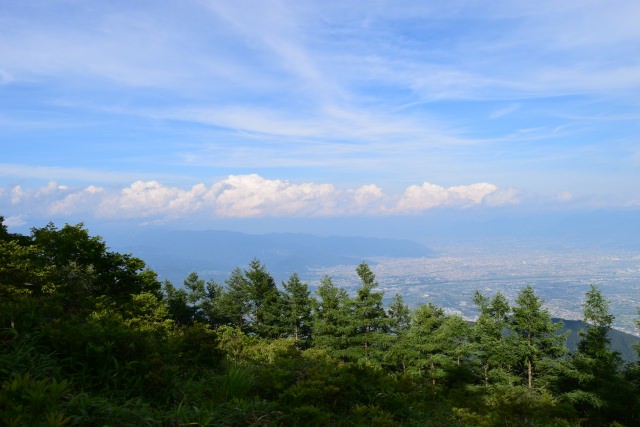 "Mt.Amari", which proudly has a height of 1,731 metres, is one of the best sightseeing spots in Yamanashi where there is a group of lilies, azaleas, and cypripediums. The meadow will be full of beautiful flowers in June and July, and Mt.Yatsugatake and Okuchichibu can be seen clearly.
Also, this is a great hiking spot to experience rich nature of Alps – from Mt.Amari, through Sentoboshi Yama to Hououzan. But just be careful, the gate will be closed in winter between December to April in the following year, so plan yourself well! How about going out to Mt.Amari that you can feel fresh and rich nature?
■Information
Name: Mt.Amari
Address: Kitawari, Kamijo, Asahi Town, Nirasaki City, Yamanashi
Phone: +81-90-8595-6141
Time:
Close:
Access: Drive 60 mins by car from Nirasaki Interchange
Website: http://amariyamaclub.or.tv/
Map: map to Mt.Amari
Suntory Yamanashi Winery Wine Museum
"Suntory Yamanashi Winery Wine Museum" is a museum that there are some findings that you will learn a history of Japanese wine that has been growing differently with the Western wine. Not only the wine bottles and glasses from the ancient times to the recent years, but also the beautiful pictures are displayed.
There is a winery called "Suntory Tomi no Oka Yamanashi Winery" and here, you can join a tour of a brewery and cellar as well as a vineyard. Of course, you can experience a tasting if you are keen! Wine lovers should love this place to learn the history of wineries. If you want to have more knowledge of wine and love it better, this is the place!
■Information
Name: Suntory Yamanashi Winery Wine Museum
Address: 2786-1, Onuta, Kai City, Yamanashi
Phone: +81-551-28-3232
Time: 9:30-16:40
Price:Free
Access:
Website:
Map: map to Suntory Yamanashi Winery Wine Museum
Mt.Yatsugatake Kiyosato Sanctuary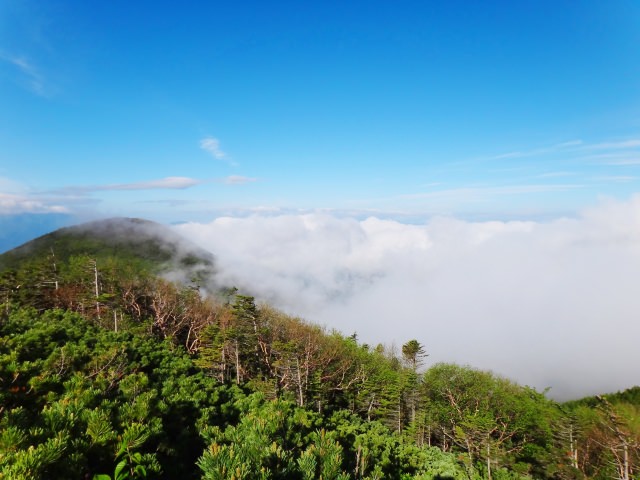 Mt.Yatsugatake is famous as one of the best 3 places for its alpine plants as well as Mt.Shirane and Mt.Shiroumatake. Plant lovers are so interested in this place as there are a wide variety of rare plants such as butterworts, primula kitadakensis, creeping pines, and rhododendrons.
Also, Mt.Yatsugatake is renowned for the bird watching spot with a vast area at the height of 1,400 metres – and now it is called "Kiyosato Sanctuary". That Kiyosato Sanctuary is loved by so many people who love watching birds. If you are interested in wild and rare birds, visit Mt.Yatsugatake Kiyosato Sanctuary!
■Information
Name: Kiyosato Sanctuary
Address: Takane Town, Hokuto City, Yamanashi
Phone: +81-
Time:
Close:
Access:
Website:
Map: map to Kiyosato Sanctuary
Eirinji
Although there are a number of temples in Yamanashi, one of the best ones is "Eirinji". Kaizan-do Hall is designated as a cultural property of Kofu City, and with that sophisticated atmosphere, you will feel blessed. If you go farther in a main hall, there is a Japanese garden in Karesansui Style, and it is a great place to feel the good old days of Japan.
And the corridors are great too – it has a "Uguisu Corridor" that makes a creaking sound every time you are walking. Eirinji, which has a lot of attractions, lets you experience Zen meditation free of charge. Doing Zen meditation for 1 hour makes you face and confront yourself!
■Information
Name: Eirinji
Address: 2280, Enzan Oyashiki, Koshu City, Yamanashi
Phone: +81-553-33-3011
Time: 8:30-16:30
Close: None
Access: Drive 15 mins by bus from Enzan Station
Website:
Map: map to Eirinji
Saru Hashi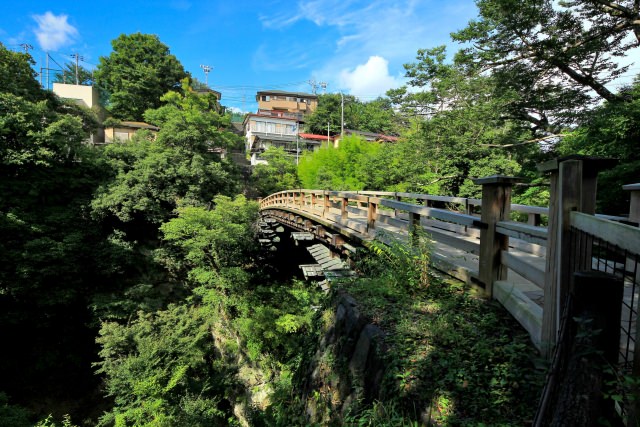 At the cliff of Katsura River at the upper stream of Sagami River, there is a bridge called "Saru Hashi" in the valley – it is counted as one of 3 unusual bridges. With a length of 30.9m, a width of 3.3m, and a height of 31m, Saru Hashi doesn't have any legs. It stands just with the 4 layered wooden plates that stick out from each side of the bridge.
Also, the area around Saru Hashi lets you feel the seasons and that is one of the reasons why this became such a popular place for tourists. As there is a hydrangea festival every year in June, all the hydrangeas are to be bloomed so beautifully. More amazingly, a season of autumn leaves is the best! The river seems as if it is burning reflecting the colour of the autumn leaves. How about visiting Saru Hashi and find an attraction in each season?
■Information
Name: Saru Hashi
Address: Saru Hashi, Saru Hashi Town, Otsuki City, Yamanashi
Phone: +81-
Time:
Close:
Access: Walk 15 mins from Saru Hashi Station
Website:
Map: map to Saru Hashi
Lake Yamanaka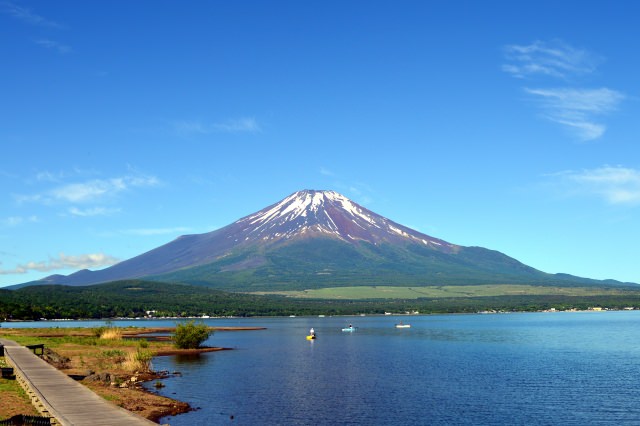 One of the 5 lakes of Mt.Fuji – "Lake Yamanaka". Lake Yamanaka is located easternmost of 5 lakes with the highest altitude of the lake surface. With rich nature, a lot of tourists visit this place to experience a different season – cherry blossoms in spring, fresh green in summer, autumn leaves in autumn, and snow in winter. There are also a number of facilities such as an inn, a hotel, a souvenir shop, a camping ground, a flower park, and an excursion cruise.
Especially "Hana no Miyako Park (flower park)" has a beautiful view of sunflowers in summer and poppies in July, and all those beautiful flowers have Mt.Fuji at the background. Also, there are some hiking course if you are an active tourist! How about visiting this place to experience nature?
■Information
Name: Lake Yamanaka
Address: 237-1, Murayamanaka, Lake Yamanaka, Minami Tsuru Gun, Yamanashi
Phone: +81-555-62-9977
Time:
Close:
Access: Drive 25 mins by bus from Mt.Fuji Station
Website: http://www.yamanakako.gr.jp/
Map: map to Lake Yamanaka
Fuji-Q Highland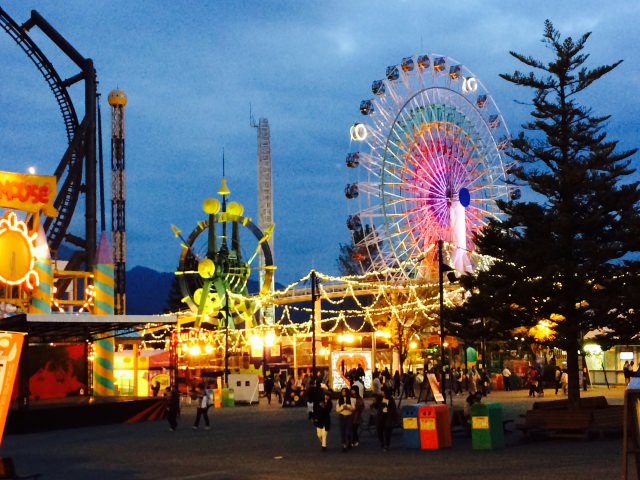 One of the most popular amusement parks in Japan, located on a stream of lava in the middle of Lake Kawaguchi and Fuji Yoshida, is "Fuji-Q Highland". There are a number of extreme rides such as "Eejanaika" with the world's highest number of spins, and "Takabisha" with the largest fall angle of 151 degrees. Especially younger people love this place!
Also, there is a huge haunted house that you can never experience in other amusement parks and that makes people want to come back. However, there are some events that collaborate with the popular characters, so this place is great for children as well as the adults. Not only young adults, but families would love this place – if you want to get excited!
■Information
Name: Fuji-Q Highland
Address: 5-6-1, Shin Nishihara, Fuji Yoshida City, Yamanashi
Phone: +81-555-23-2111
Time:
Close:
Access: Short walk from Highland Station via Fuji Kyuko Line
Website: https://www.fujiq.jp/
Map: map to Fuji-Q Highland
Enjoy Yamanashi Where There Are Many Attractions!
Today, I have introduced the best 10 sightseeing spots in Yamanashi. Yamanashi has not only nature, but also historic sites such as temples and shrines as well as the pleasure spots. Taking just 2 hours one way, you can go on a day trip from Tokyo. Start making plans to visit Yamanashi now! You will sure enjoy those places!
If you like this article,
Please push the
"Like"
!
Deiliver the SeeingJapan's news to you!
Popular Articles in Same Category
Author