The 10 Best Places for Stargazing in Kyoto, Japan
Kyoto is a city where you can feel Japanese history. What do you think of when you hear sightseeing in Kyoto? Everybody might think of beautiful view in day time. Of course day time in Kyoto is beautiful but it is also beautiful too after sunset in Kyoto. Today, we would like to introduce night spot in Kyoto top 10.
1. Shogunzuka Seiryuden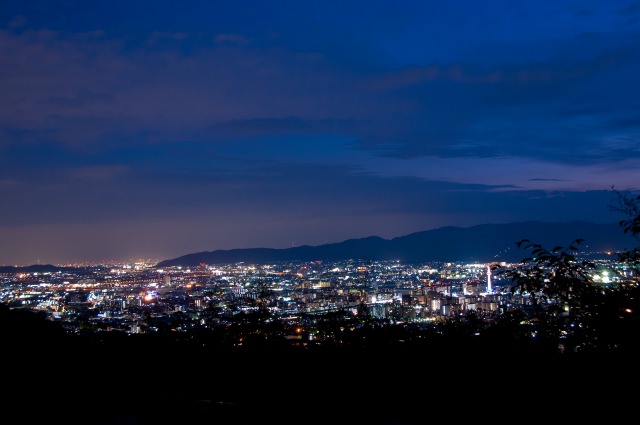 When people hear night view in Kyoto, they would think this place. You can see whole city from there. The name of "Shogunzuka" is came after emperor Kanmu made 2.5m high statue of Shogun to keep peace of the city and buried there.
There are two observation deck . From west deck, you can see not only Kyoto but Osaka city. From north deck, you can see "Daimojiyama" which is famous for Okuribi.
If you want to see night view in Kyoto, please visit "Shogunzuka Seiryuden" first. Please enjoy beautiful night view!
2. Kyoto tower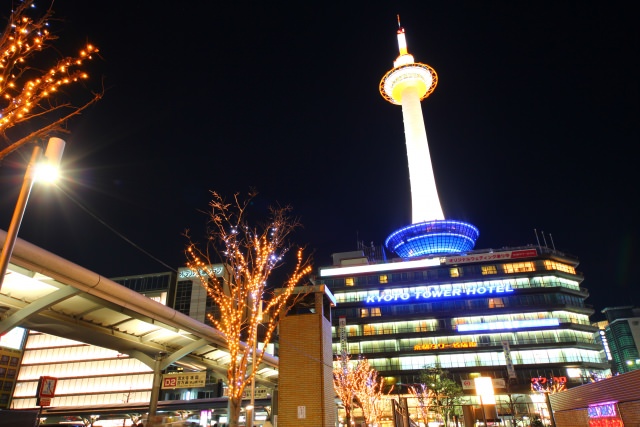 If you come to Kyoto for sightseeing, you should go to Kyoto tower that is located at Karasumaru exit of Kyoto station. You can see the whole city of Kyoto from the tower, also they have restaurant and shops too.
They have information for foreigners. It is beautiful to see the view in day time of course but you can enjoy night view too. They light up tower itself too so please check it out. How about going to Kyoto tower that has history of more than for 50 years? It is a good night view spot!
3. Mandoroyama tenboudai
"Mandoroyama tenboudai" is observation deck where is located in Kyoto, and you can see not only Kyoto but Nara too. Since you can see both city Kyoto and Nara that are two biggest cities for sightseeing for foreigners in Kansai, lots of people visit.
You can see the night view sitting on grass. If you go to "Mandoroyama tenboudai", please go when it is sunny.
4. Tosendai parking
If you drive in Kyoto, we would like you to stop at "Tosendai parking". Best thing about this spot is you can enjoy night view from car. Especially night view in winter is beautiful but it's cold.
But if you come here, you can enjoy from warm car. You can see night view of Kyoto on South west, and night view og Biwa lake, Shiga on East. There are more spots other than Tosendai parking, like "Yumemigaoka" on Mt. Hiei driveway. Please stop by!
5. Goro sky tower
"Goro sky tower" is located at top of the Gorodake that is 301m high and located in the central of Maizuru. From Observation deck that is 301m high from the ocean, you can see not only the city of Maizuru but Maizuru port too.
This is the only place you can see Maizuru port this close. It has been chosen "No.1 night view in Kinki". We suggest you to go when the weather is good as you can see further. Your heart might be stolen by the beautiful view!
 
You May Also Like:

→The 10 Best Places for Stargazing in Kobe, Japan
6. Funaokayama park
"Funaokayama park" is a park that is in residence of Kita, Kyoto. It is located at 112m high so it is not that high compare to another night view spots but it is easy to go there like just going for a walk. You can see town of Kyoto like Kyoto tower close.
There is no high building around the park so you can enjoy the night view nothing around. Even people who don't like famous sightseeing spot as there are many people can relax and enjoy night view at this park.
7. Miyama Kayabuki-no-sato Yukitouro
Night view from mountain is beautiful but if you want to see something different, we suggest you to go to "Yukitouro" that is held at Miyama Kayabuki-no-sato from the end of January to early February.
At "Yukitouro" you can see premium night view that you can see only in winter. Last time, more than 900 lights were light up and also 18 houses were light up.
Also they have event that visitor can make snow light and show at the event. If you go to Kyoto in winter, how about visiting "Yukitouro"?
8. Kyoto station Ozora hiroba
This is a place we suggest people who like night view but want to see something different. "Ozora hiroba" is on the top floor of Kyoto station building where you can see platform of the station and city of Kyoto.
To go there, you can take long escalator from Kyoto central exit. Entrance is free and there are restaurants inside the building so it is good for date too.
It is also good to just stop by before you go home since it is located at the station. If you come to Kyoto station, please stop by!
9. Toba sewage plant
When you hear night view, you will think view from deck or top of the hill. But this spot is different. How about watching night view of factory?
You can see azalea depends on the season at "Toba sewage plant", and at night you can enjoy watching the building as it is made complicated. "Night view of factory" is getting popular as new night view spot, how about visiting once?
10. Kifune shrine
"Kifune shrine" is where you can enjoy night view that is light up during autumn and star festival. It is popular spot for tourists from overseas since the red lights are lined up along the stairs. Main shrine looks gold because of the light.
Best season to go is autumn when leaves turn red but view in winter with snow is beautiful too. If you feel you want to see night view in Kyoto, please visit! You can feel seasons here.
Let's enjoy beautiful night view in Kyoto!
Kyoto is popular sightseeing spot as the city is beautiful and has nature. There are lots of spots that you can enjoy night view. You might not forget that view once you see it! When you come to Kyoto for sightseeing, enjoy sightseeing during day and enjoy night view at night!
If you like this article,
Please push the
"Like"
!
Deiliver the SeeingJapan's news to you!
Popular Articles in Same Category
Author